Tripawds is a user-supported community. Thank you for your support!
Hi Tripawds and Pawrents
All is still good on the health front.  We are totally cage free!  Although at 6am today I was debating the benefits of having Leila sleep in the cage.  For: It eliminates the sunrise playtime (hence me being awake at 6am), Against: Milo likes to cuddle with someone when he sleeps, if Leila is not available then I'm next in line and for a very small cat, he manages to take up at least half of the bed.  If only we had a house with doors instead of open-plan!
You can see that Leila's fur is growing back nicely.  She is using her bad leg a bit more as well, but not all the time.  I will give her some more time, but I am concerned about her being in pain.  She doesn't show any pain – but we all know that cats hide it well.  She is playing and chasing with Milo and seems happy.  I suppose I will have to watch her and see what happens.  I have researched joint supplements but while she is still on the medication from her illness, I won't introduce anything new to her diet.  I am also going to look into keeping the elbow warm in the winter, maybe a coat or something?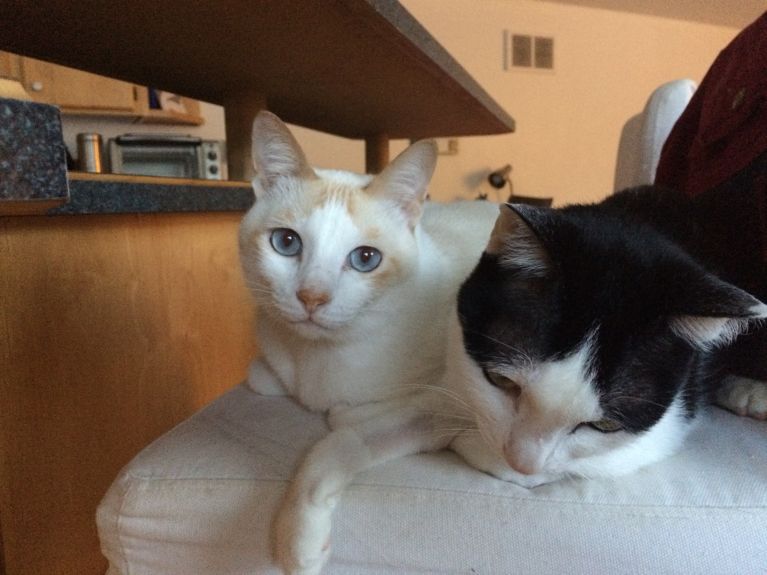 In other news…
Since I can't work in Canada yet, I have been volunteering at an animal shelter.  When I started there were 32 cats and kittens, now there are around 25.  Some have found homes.  I have to remember to be happy for the cats when they go to their forever home.  There is always that little selfish part which will miss them, but I know it's much better for them to be in a home.  I called in today to see the new kittens who arrived on Friday afternoon and I was sad to see that one of the cats who was rehomed a couple of weeks ago has been returned.  It was because the family's dogs did not like her, but it's still sad.  She is a lovely, sweet cat.  One of the ones I would actually consider taking to go with Milo and Leila.  If I was allowed another cat (lol).  There are also two older cats who are new to the shelter, the (neutered) male is incredibly nervous and this is manifesting as aggression.  They are in a separate room to the other cats because they are waiting for booster vaccines, but the male is currently unapproachable.  He hisses and growls, and has charged at some staff members.  He has shown some improvement since arriving last Wednesday, but it's slow going.  I wonder if anyone here has a similar experience?  I know there are quite a few members who also foster animals.  I will have a look on the forums, but as he's neither my cat, nor a tripawd, I'm not sure I should start a topic about him.
Anyway, I hope everyone is well.
Leila and Emily (and Milo)