I realised how long it's been since I checked in on here.  I just had a catch up on some of the trikitty blogs I used to follow.  I was sad to hear that Jill crossed the rainbow bridge, but comforted that her brother will be there waiting for her.  As always, I teared up at Smore's blog.  That kitty is so much like my Leila in how she chose her one human!
Leila and Milo are both doing well.  As always, I feel a bit of a fraud being here as Leila's leg was saved and she is currently not a tripawd.  I was looking at my photos in my last post and I remembered how she used to hold up her injured leg when she sat, and how she had a very obvious limp.  I can't remember exactly when that stopped but you barely notice a limp anymore.  She has a good – though not full – range of movement in her leg and is very happy.  She is currently sitting on my lap as I write this!
When my Canadian work permit finally came through, I worked for a while in a friend's pet foods store.  I learned so much about cat and dog nutrition and care.  Leila was taking some joint support supplements for a while which made a huge difference to her recovery.  I even caught her on top of the fridge-freezer a few times before she realised I didn't like her going up there.  At the beginning of her recovery she wouldn't jump onto high places because she knew it would hurt her leg to jump down.  A least that what I assume.  A couple of times at the very beginning, she did, then mewed for me to lift her down again.  Feeling her leg now feels much smoother.  Although the bone isn't perfectly straight, it seems to have healed even more and I can feel muscle around it where I couldn't for a while after her pins were removed.
Although she is still very much my cat – my shadow to day in fact, she is opening up to other people much more.  She will sit with Craig and when we went away, she even sat with our two housemates (we rent our downstairs bedroom out to help out a couple of friends).  When we moved into our own house last March, she quickly found her 'spot' inside a closet.  Her leg is slightly twisted (Craig sometimes calls her Captain Hook) so she has found that she can use it to open closet doors.  I put a cat bed on the lowest shelf in the closet.  I figured she is going to sleep there anyway so better a cat bed than my clean towels!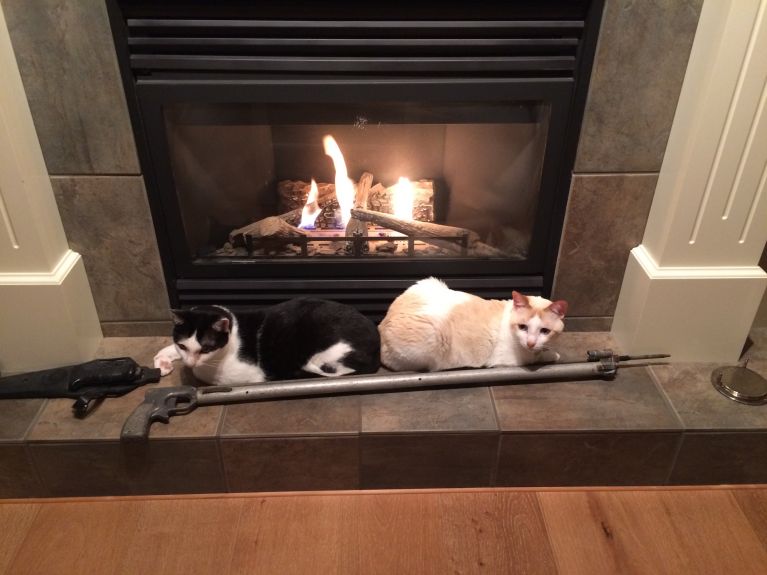 Leila can't tuck her injured leg all the way in, but she still makes herself comfortable.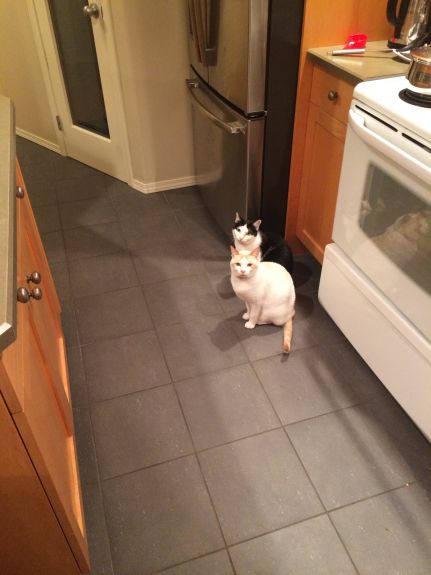 I bet you can't guess which cupboard the cat treats are kept in!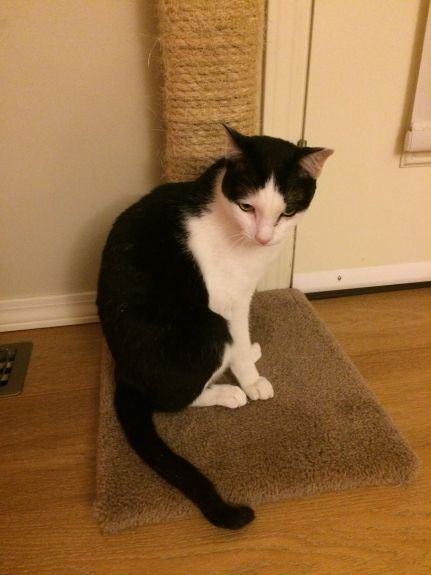 Look how straight her injured leg is! More than I ever dared hope for!
I hope everyone had a wonderful Christmas and you and your tripawds have a great 2017!